Hi everyone! I've gotten so caught up in my new little hobby/ side business of refinishing & reselling furniture that everything else (including blogging) has gotten pushed to the side. I've been working hard & steady for about 3 weeks now & am very close to the original goal I set for how much I'd like to have set aside for our family vacation in October.
Now that the initial excitement & push to really get started is over, I'm trying to set some realistic goals about how to continue this endeavor. I still am having a blast and I definitely want to keep going. I just know I need to find some balance (my house is a wreck, laundry is piled up, & I've had less time for family and friends). So, I'm going to slow down a bit.
And, this seems like the perfect lead in to the book review I wanted to share with you. Several weeks back I was given the opportunity from
MOPS International
to review a brand new book. It is called
Mom Connection: Creating Vibrant Relationships in the Midst of Motherhood
by
Tracey Bianchi.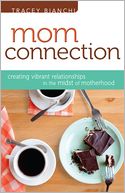 This idea of finding balance or creating a rhythm in our lives, as Tracey puts it, is what struck me the most as I read this book. She describes with charming humor the 'real' life of motherhood. So often as mothers it's hard to see past the chaos and noise of the moment. Her description of pre-dinnertime madness - that time between 4 & 6 p.m. had me laughing out loud.
She writes,
"I trip over piles of shoes while trying to find homework sheets. My baby girl poops and I keep saying, "Don't worry, Mama will change you." And then forget instantly that she needs a diaper as I yank pots and pans out of cupboards and wish that I had paid some attention to Rachael Ray. What's for dinner? Day-old quesadillas and yogurt cry out to me from the fridge.........Whipping up dinner makes me an anxious, hot mess...."
So how does one find that balance and rhythm? Tracey is the first to admit that it's not easy and that it may even seem downright impossible or overwhelming. But her book walks us through some solid, practical ways to slow down, reach out to others, and
embrace our faith in God. Each chapter ends with "5 Mom Tested Tips" - a.k.a practical applications to the ideas in that chapter. And, she includes 'Thumbs Up, Thumbs Down" - 2 different questions to make you think a little deeper, as well as a list of resources.
The part of this book I was especially excited to read was about connecting with others. She includes connecting with our husbands in this. But, I was really interested to hear what she had to say about connecting with other women. Sometimes it feels like some friendships are in limbo during motherhood. There just isn't the time to invest in my friendships that I once did. And, making new friends seems almost completely overwhelming to me.
One of my favorite things that Tracey said on this topic of developing friendships was this...."We needed time to build history together.", she says of a group of women she felt connections to but was still getting to know. "So, take the risk to connect and then sit back and give that friendship the space and time it takes to grow."
I loved that! I sometimes felt guilty or bad that, while I've met many women since becoming a mom, it's been hard for me to develop that closeness that I crave in these new friendships. Part of it, I know, is me needing to reach out more & make time to spend with them. But, part of it, too, is just that - the need for time. Close friendships form over time.
Tracey Bianchi's book is one that you should take the time to read. She speaks with wit, truth, & grace. And, don't all of us moms need each of those 3 things!?
So, here's your chance! I have one copy of the book to give away. Leave me a comment below telling me one thing you've learned, or are learning, about staying connected with other during the busy years of motherhood. The chance to enter will close on Saturday, (May 26) at midnight. I'll pull one name in a drawing. And, I'll announce the winner on Monday, May 28th! Good luck!