A couple weekends ago my parents took the boys Saturday afternoon and kept them until Sunday afternoon. (Thanks Mom and Dad!) I arranged this with them as a belated Christmas present to John. He is awfully hard to buy gifts for. So, I decided this would be my gift to a man who almost never has any downtime (he's a worker my husband). We would have downtime together without the boys.
Can anyone say Date Night??
I will say it was probably one of the best weekends we've both had in a long time. We were so relaxed.
Saturday night we decided to go out to dinner. We went to a restaurant that is actually quite close to us (maybe a 10 minute drive) that we had never tried before. Another blogger, who I discovered lives in the same county as me, recently wrote that her and her husband went there to eat and really enjoyed it. So, we decided to check it out.
Loved it! The atmosphere was so neat - it was Victorian themed but not in a stodgy way; it was actually very cozy. Plus, they seated us in a booth (I love booth seating - very comfy) and GET THIS - it had drapes which swooped back on either side of the opening to the booth. So even though the restaurant was quite busy that night, we still felt like we had our own little private spot.
The food was lovely. The atmosphere was lovely. The conversation was lovely. The fact that my steak came out to the table cold - not less than hot, not lukewarm, COLD - couldn't detract from how much we liked this restaurant. And, of course they were gracious enough to remedy the problem & deducted the cost of our appetizers.
We will go back again for sure.
Then we decided to check out a movie. We haven't been out to see a movie since I can't remember when. We left the restaurant around 8:30 and that is getting late for old me. But, it was date night! We had no restrictions, no time we had to return to our house! We were gonna get wild!
It was a 10 minute drive to the theater and we discovered that the next batch of movies didn't start until 9:30. So, we killed some time by finding a Cold Stone Creamery and sharing an ice cream. Then we headed back to the theater.
There were two movies we were trying to decide between (there weren't a ton of choices unless we wanted to wait until 10:00 - ugh!) . We decided on 'The Adjustment Bureau'. It has Matt Damon in it. We like Matt Damon. And, it seemed like it would be suspenseful and action-packed. We enjoy those types of movies.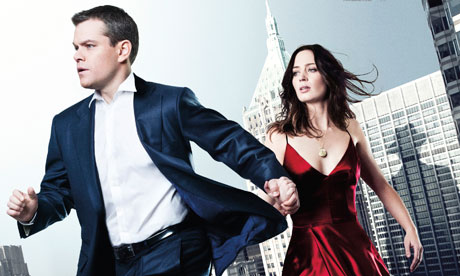 Well folks. Here comes my non-recommendation. First of all, I was out WAY past my bedtime. We were in a dark theater watching a movie that wasn't quite as action-packed as we thought it would be. It was actually a bit slow moving in parts. I fell asleep. Multiple times. I tried really, really hard to stay awake. We spent good money on the tickets and a grotesque, shameful amount of money on the popcorn that I HAD to have. (Yes. I know we just ate dinner. And I know we just ate ice cream. But, I have a thing about movie theater popcorn. I must have it.).
Now, I don't want to spoil the movie for you if you were planning on going to see it. But, remember, I'm non-recommending it to you. So, if you do go see it - well I won't spoil it too much. Let's just say I walked away from the movie disturbed. Here is the very humanistic message I took from the movie. It seemed to say that we humans know what is best for ourselves; better even than the author of life. (While the movie never makes a direct reference to God it's very thinly veiled that the Bureau 'Director' symbolizes God.) The movie seemed to say that the author even changes his mind (repeatedly) and the script for our lives. And, the real heroes of the movie are those who take things into their own hands.
So there you have my two cents. I'm curious if anyone else saw the movie and what thoughts they had.