I was not sure if I believed people who told me that you can add a bright green vegetable like spinach or kale to a fruit smoothie and not really have it effect the taste. Nontheless I've been wanting to incorporate even more veggies into my diet and one of the things I've been having for breakfast lately are smoothies.
So, I figured why not try it? And guess what? The people are right. The smoothie gets a lovely green color, I get the benefit of an extra serving of veggies & the vitamins, and it tastes great!
So I will share with you 'my' recipe for a green smoothie. This is how I made it this morning, but there are so many variations you could try.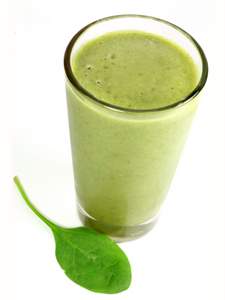 Not my picture...found it here. I forgot to take a picture this morning of my own smoothie before drinking it, but this is pretty much how it looked.
Karen's Green Smoothie
1 banana
1 fresh peach
1 single serving container of honey flavored Greek yogurt
1 handful baby spinach
6 ice cubes
1/2 cup coconut milk
a splash of pink lemonade (the only juice I had on hand)
I think my favorite part was watching my kid's faces when I put spinach in the blender. I think they thought I was joking. Their faces were even better when I actually drank it!